Joomla! forum component to create full-featured forums, discussions, or customer support portal. ACL, topic moderation, editor support, attachments, profiles, and more features out of the box.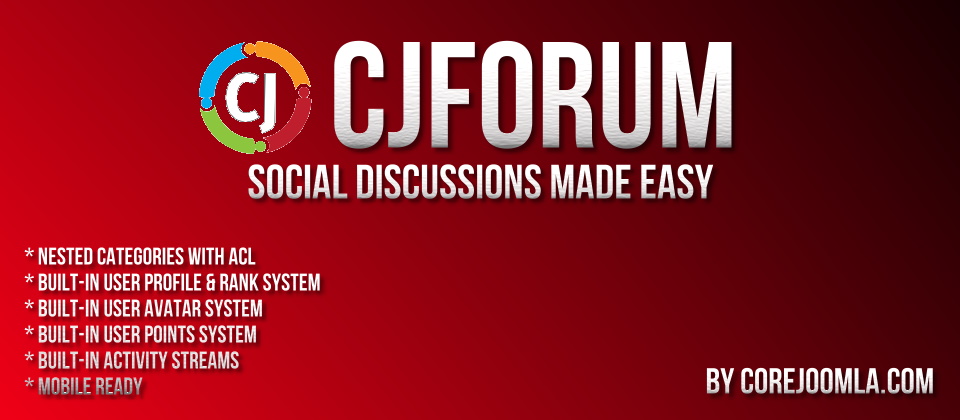 Discussion Forum
Quickly create a self-hosted forum or a support system on your Joomla! powered website.
User friendly design
The component is designed with a user-friendly interface to easily access all features even for beginners.
Faster Performance
Designed with simplicity in mind. The code is lightweight, loads, and runs faster. Runs on shared hosting as well.
Beautiful User Interface
Build a beautiful forum page in minutes. Easy to build and easy to configure, get started in less than 5 minutes.
Category listing
Supports unlimited multilevel categories, displayed on a beautiful index page to easily navigate to the right forum.
Child categories display
Shows child categories of the parent categories on the main index page when needed.
Forum toolbar
Get access to the most needed shortcuts with the thoughtfully designed toolbar. Get started quickly with all required buttons and menus in one place.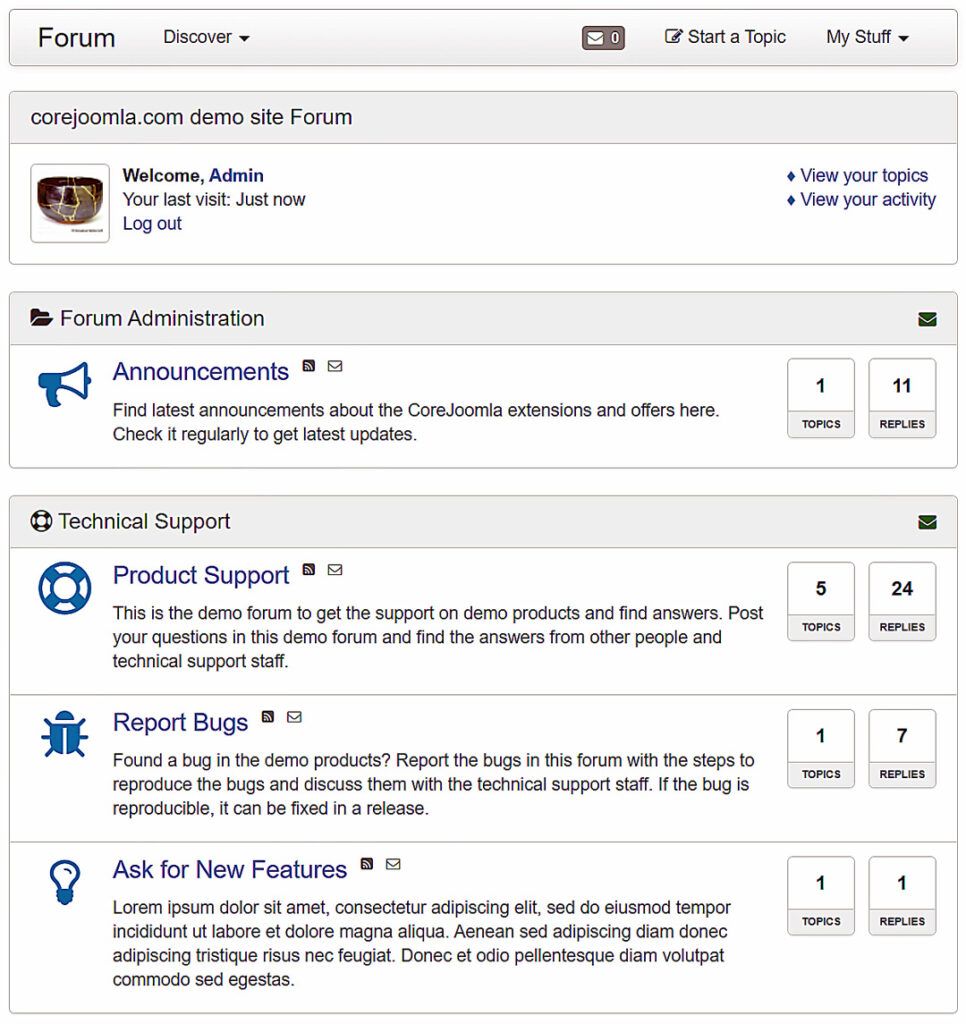 Built-in user profiles
With a built-in GDPR compliant user profile system, show all user data, avatars, intro and integrates well with many known Joomla! extensions.
User avatars
Add user avatars feature to your website. Avatar system has an API to integrate any third-party Joomla! extension.
Apps
Show the content submitted by the user across your component with integration into profile apps.
Quick insights
Show the most recent user discussions, user points or user-favored topics, user stats, and intro on the profile dashboard.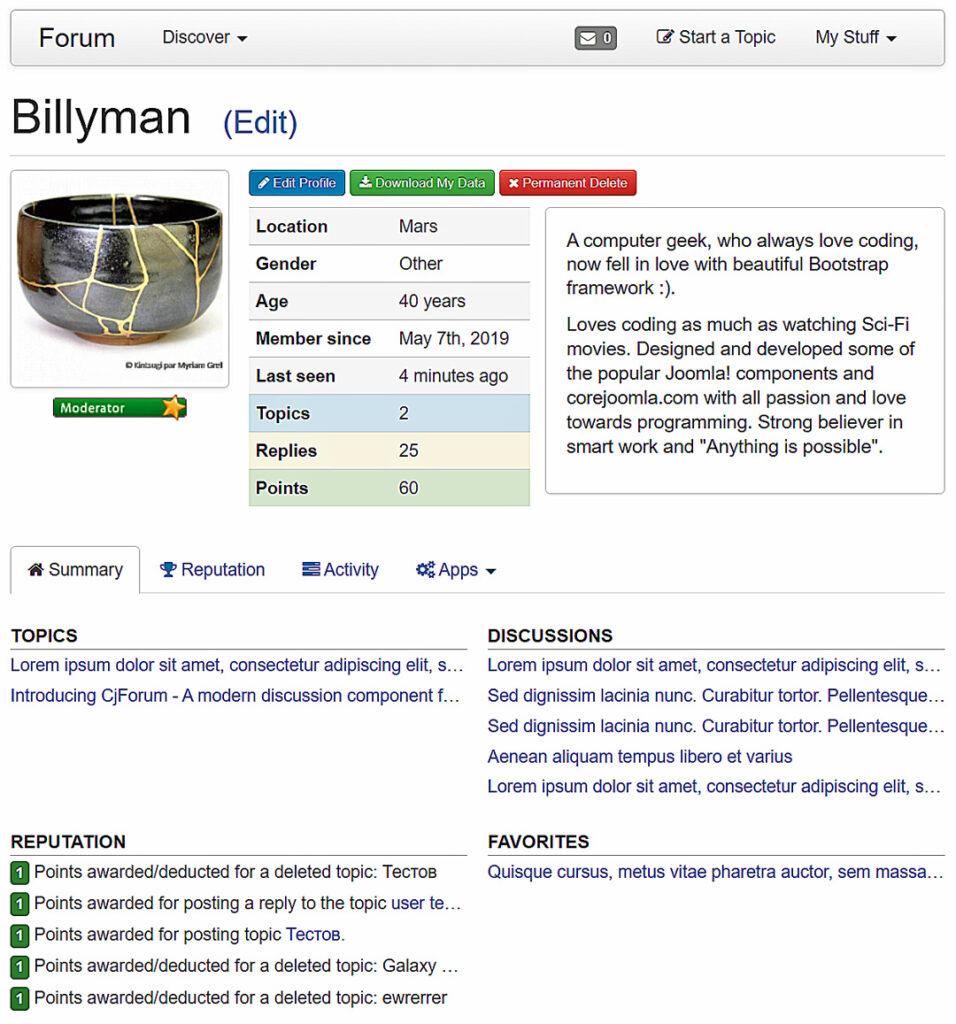 Discussion threads
Users can quickly start discussions with the built-in support for Joomla! editor, attachments, ratings, and quick replies.
Attachments
Users can attach documents and pictures when starting topics or posting replies. The images are shown as a gallery. Attachments are fully protected with ACL.
Ratings & reporting to admin
Like or dislike the topics and replies. Or say a thank you to the user who posted a nice reply. Some bad actors posting unwanted content, users can report them.
Social sharing & bookmarks
Add support for sharing topics on your favorite social networks or bookmark them with permalinks.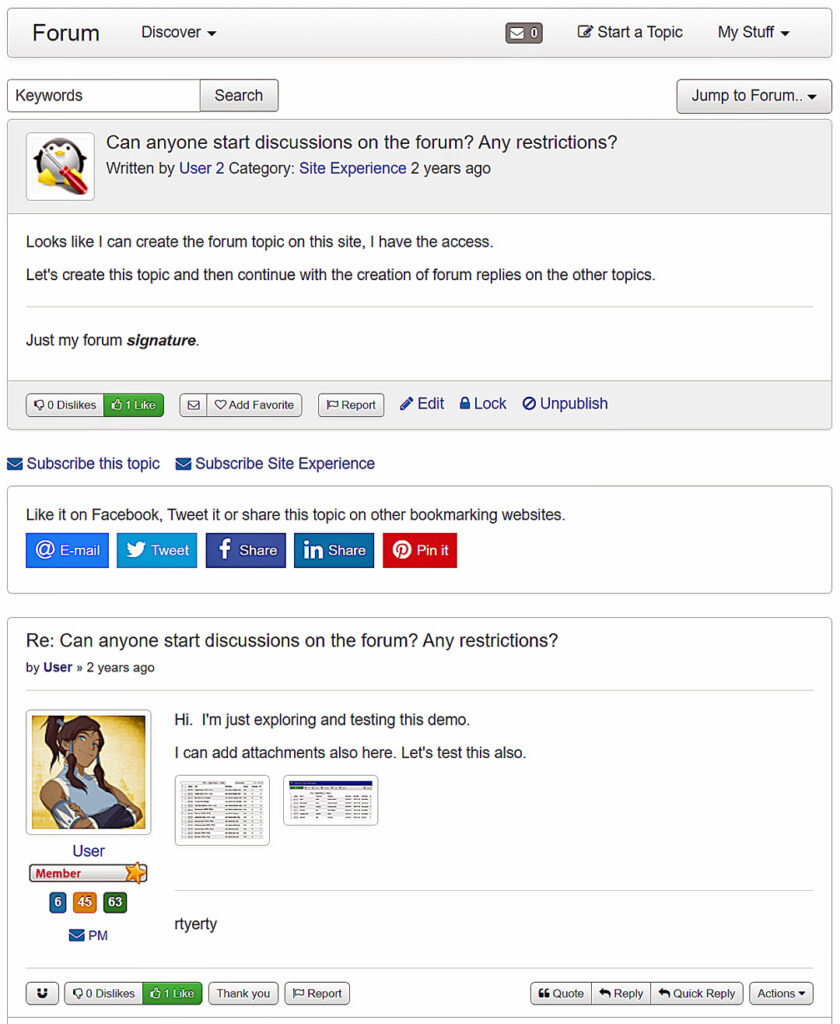 Private Messaging
Built-in simple private messaging feature to contact and discuss with the users privately.
Quick contact
Send a private message to any user right from your topic replies. PM button is shown below the user avatars to quickly send messages to the users.
Notifications and messages
The forum toolbar shows the new private message notifications and provides access to view and reply to their private messages.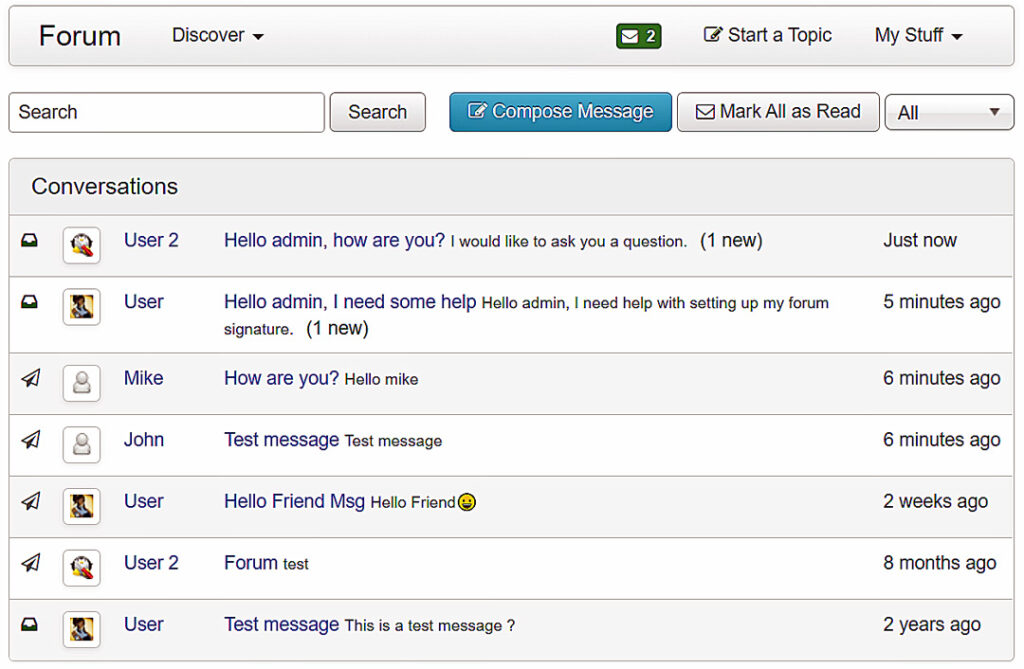 Forum Leaderboard
A special page to show the top contributors of the forum with detailed statistics.
User rank
Rank the users based on user topics, replies, and thank you the user received from other users. Show top 20 users with user avatars and their ranks.
Karma
Customize how the rank can be calculated. Assign weightage for a number of topics replies, and thank you. Rank the users based on the final values of Karma.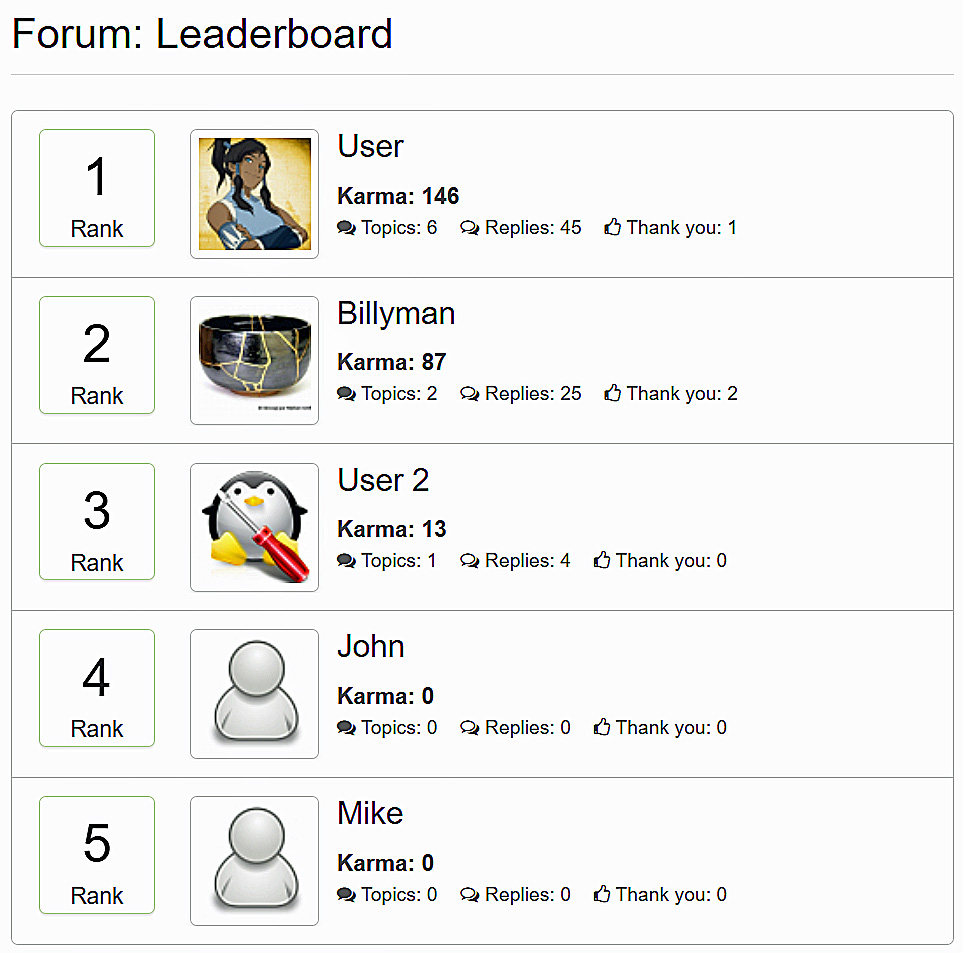 Email Templates
Customize the content of each email sent from the component.
Customize with editor support
Customize the email templates with full HTML editor support
Multi-language support
Create different emails for each language and they are automatically selected based on user language.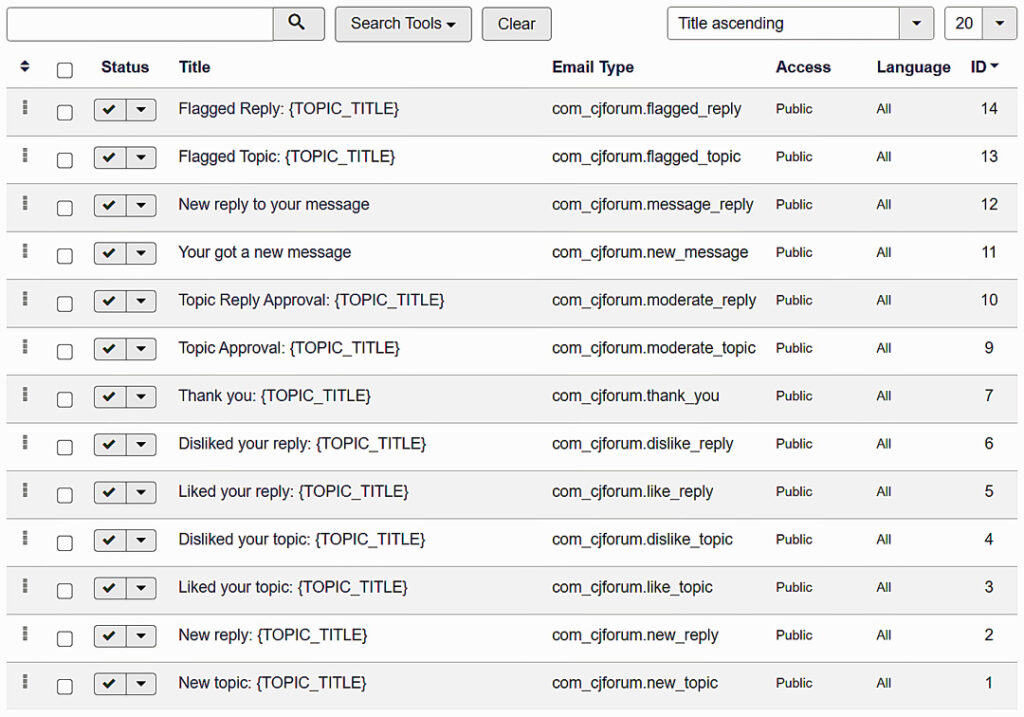 Multilevel Categories
Create simple to most complex forum structure with unlimited, multilevel categories with built-in support for Joomla! category system.
Categories & forums
CjForum utilizes Joomla! category system to build a robust forum structure with unlimited multilevel categories.
Category level permissions
Configure permissions at each category to allow the users to create topics or to post their replies.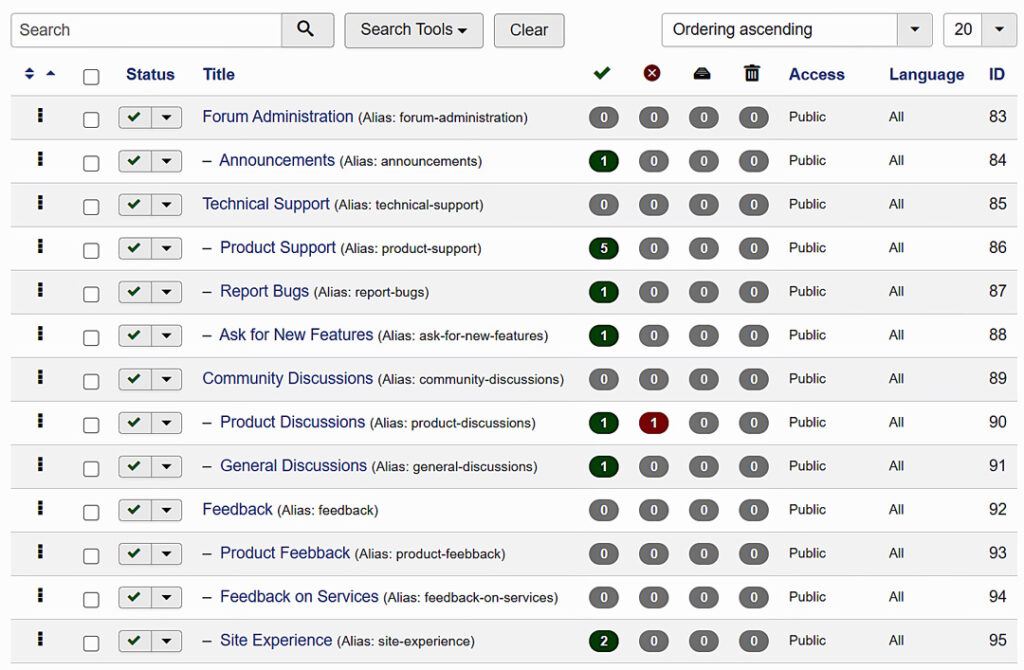 User Ranks
Add ranks to the users for posting more posts and encourage active participation on the forum.
Automatic & manual assignments
Automatically assign ranks based on the number of posts. When needed, manual assignments are available.
Rank images and icons
Use your own image for the rank or the bootstrap class name. Display the ranks below the user avatars on the forum topics.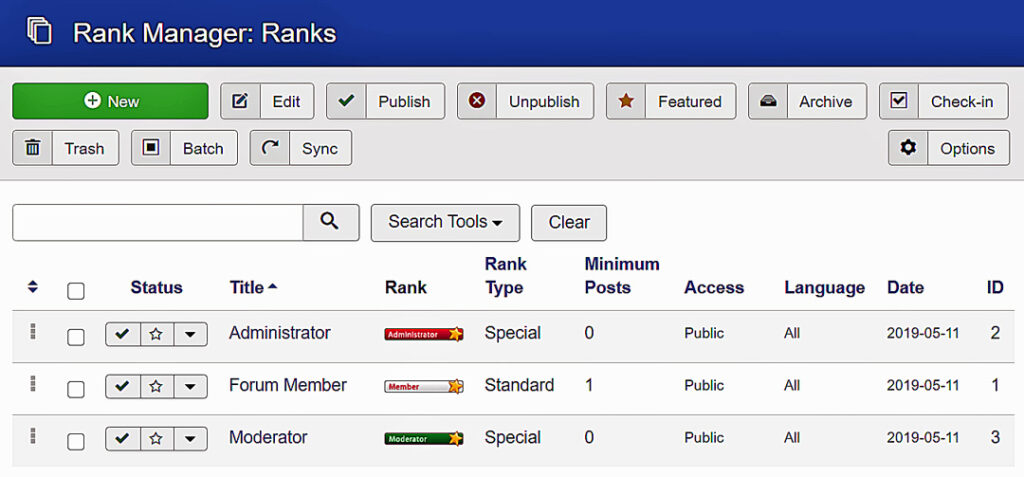 Topic Moderation
Do not want the topics and replies posted on the site directly? Enable moderation features backed by ACL.
Moderate topics and replies
Restrict any user group to post directly on the forum and send all posts for moderation by the administrator.
Email approvals
Approve or disapprove of the topics and replies right inside your mailbox. We send you notification emails with the links for approving or disapproving the posts.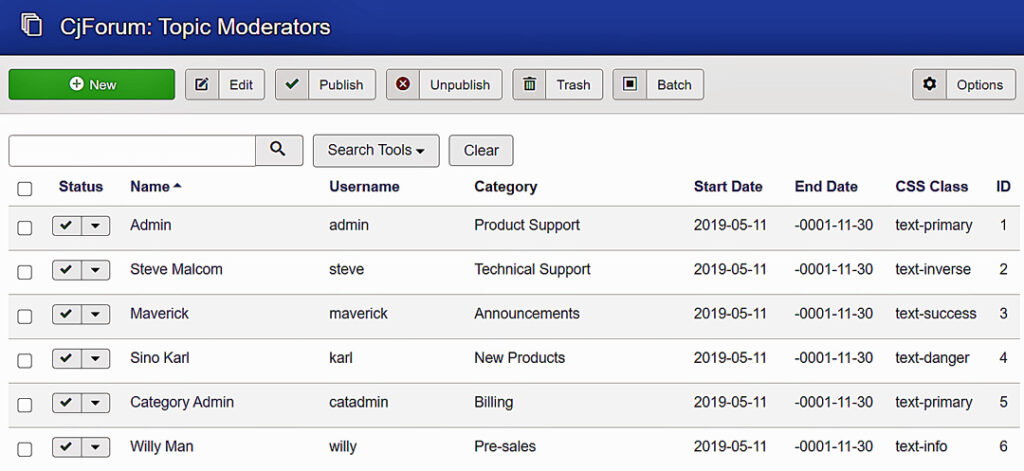 User Points System
With the built-in user points system, reward users for being active on your website and encourage them with points.
Points rules and activities
Each type of activity such as creating topics, reply to topics, like or dislike or saying thank you; can be awarded points. We have bundled all required rules.
Extendible & Developer API
We integrated many known Joomla extensions along with Joomla content and user components. The points system can be extended to support any third-party extension with simple plugin events.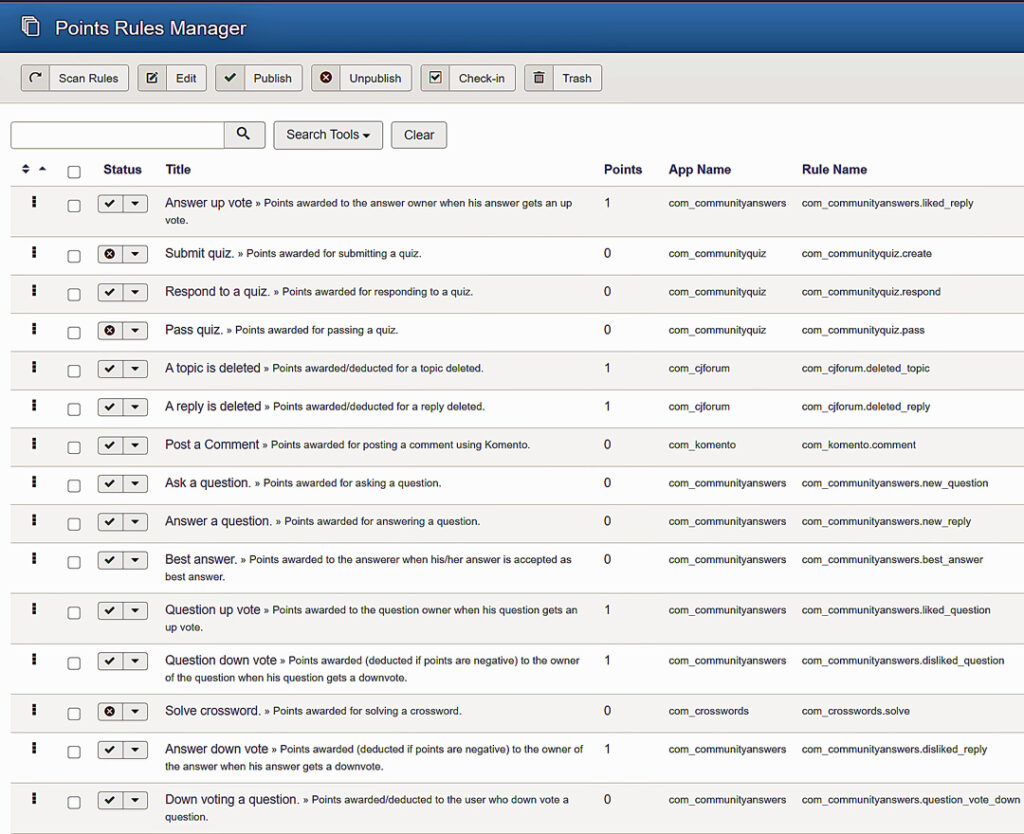 TESTIMONIAL
The Most Popular Joomla! Forum Extension
CjForum is one of the most popular and top-rated extensions on Joomla! Extension Directory.
"CjForum is awesome, simple and clean, and very functional. It integrates with the sociable activity stream seamlessly. It's perfect!"
CARL COOPER
"Has all the basic forum functionality, PM's are included. Developer is open for suggestions and improvements"
MARINA
"Awesome support! Took no time to get a response and physical assistance with NO delay. Great job and thanks again for the help."
JEFF SHEFFLER
"The product is pretty versatile and has done everything that I need it to do. Has met all of my needs so far."
JOE
SUBSCRIBE
All Access Membership
No hidden costs, no confusion. Get access to all our extensions with one simple membership.